Searching for a God to Love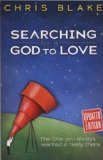 Searching for a God to Love by Chris Blake has been targeted by the NAD Church Resource Center as the natural next step to the "Living with Hope" presentations. Now available with questions for small groups, this challenging, lively book provides a perfect way to deepen learning and build relationships within your faith community.
Download flyer to learn more (PDF, 3 MB)
More Seventh-day Adventist Sermons
The Radical Teachings of Jesus by Derek Morris offers a Leader's Kit that allows you to hold a complete evangelistic campaign. The kit includes group discussion resources, 8 manuscripts, presentation slides, and a money-saving voucher for evangelism resources. This Leader's Kit will help you reach out to people who, regardless of their religious tradition, have heard many conflicting teachings about Jesus. Learn more about this powerful campaign.